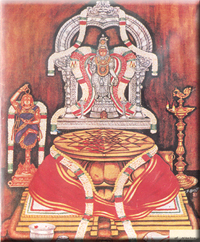 Sri Kamakshi Amman
Adhisayamana Vadivudaiyal Aravindhamellam
Tudhisaya Aana Sundaravalii Thunai Iradhi
Padhisaya Mana(dhu) Abasayamaga mun Paarthavartham
Madhisaya Magavandro Vaamabagathai Vavviyadhe.
Mangadu is a small town situated 24 Kilometers away from Madras in between Kundrathur and Poonamallee.
The form in Mangadu to be known as "Thapas Kamakshi" And the form in Kanchi is known as "Kalyana Kamakshi".
History
Goddess Parvati mistakenly closed Lord Siva's eyes, as a result, the entire universe fell into darkness. Goddess Parvati pleaded Lord Siva for her ignorance. As instructed by Lord Siva, Goddes Parvati performed strict penance at Mangadu (Mango trees or forest). She held Japamala and stood on her left leg and folding right leg in the mid of "Panchagni" and performed Strict for Lord Siva.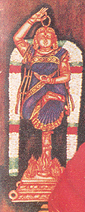 Impressed Lord Siva appeared before the Godded and asked her to come to Kanchipuram for marriage. Goddess moved without turning off the holy fire. Sri Adi Sankaracharya installed SriArdhameru Chakram to reduce the heat in this region. The heat came down and restored the natural living in this region. Sri Chakra in the form of Ardha Meru using eight herbs.
Our Maha Periyavaa who knew about this visited, Shifted the  THapas Kamakshi to the left side of the temple and in the sanctum sanctorum, he consecrated a very peaceful form of the Goddess holding a parrot and sugarcane which was made of Panchaloha. She is called the "Adhi Kamaksjhi"  and Thapas Kamakshi sanctum is on the left side.
Six Week Worship
Worshipper can choose any one day in a week for worship. They have to repeat the worship on the same day next week for seven times (one Mandalam). Every time two fresh lemon fruits are to be offered and they have to get back one lemon and the same has to be kept in the pooja. When they come next week, they have to bring the old, which was kept in pooja, with two other fresh lemons.
Worship the Goddess Mangadu Kamakshi
1. Unemployed youths: Those who are in search of a job can worship the Goddess for employment opportunities.
2. Unmarried Girls and Boys: Those who are in search for a suitable life partner.
3. Childless Couples: Couples who are delayed with child birth.
Annadhanam
Every Day Annadhanam is being provided to the worshippers at 12.15 noon. Tuesdays, Fridays and Sundays annadhanam provided for 150 worshippers and on other days 100 worshippers.
Golden Chariot
Golden Chariot is drawn every day between 6.30 – 7.30 PM.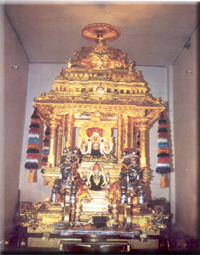 Dharshan Timings
Monday,Wednesday,Thursday and Saturdays : 6 AM – 1.30 PM and 3 PM – 9.30 PM
Sunday,Tuesday and Fridays : 5 AM – 10 PM (Without Break)
Abisheka Time
Monday,Wednesday,Thursday,Saturday: 11 AM – 12.45 PM
Deputy Commissioner/Executive officer
Arulmigu Kamakshi Amman Temple Mangadu,
Chennai – 600 122,
Telephone: 91 44 26790053 / 26791883.
E-mail:[email protected]
E-Donation :
Devotees can send your Donation through demand draft(DD) in the favour of
Executive Officer
Arulmigu Kamakshi Amman Temple ,
Mangadu,
Chennai – 600 122.
E-Donation & E-Pooja :
Donations To Thirupani Works And Also For Pooja Fees Can be Sent Either by Banker's Cheque Drawn in Favour of
Account No : 05760100029075
Account Name : Sri Kamakshiamman and Srivaikunda perumal Etc., Devasthanam,
Bank : Bank of Baroda
Branch : Mangadu
Pincode : 600 122
Account Type : Savings
IFSC Code :BARB0MANGAD
Coordinates: 13°1'48″N 80°6'36″E
Google Maps
https://goo.gl/maps/cRJsPREcru8G2m5h7
Sri Velleswarar Temple
This is a very ancient temple situated near to Sri Kamakshiamman Temple. Lord Muruga with Valli and Theyvayanai are sculptured in a single stone and Sri Vinayaga with mango are the landmarks on this temple.
A little away from Mangadu is the temple of Lord Velleeswarar. Velli is the name of planet Venus-Shukra. As in the Kanjanur Shukrapureeswarar temple, this temple is of Shukra importance. Mother Kamakshi is the important deity in Mangadu and Kancheepuram. Similarly, Velleeswarar is the main deity in this temple. Only the feet of Mother are installed here.Lord Ganapathi is holding paddy stalks and mango in His hands. These are offered as nivedhana to Lord Vinayaka in the faith that farm yields would be in plenty. Another Vinayaka in the Goshta appears with an umbrella and a mango.
The six week worship of the goddess
In the first week the devotee goes to the temple with two lime fruits, coconut, thamboola, banana as well as camphor and gives to the priest. After Pooja the priest returns after Worship one lime fruit to the devotee along wioth Prasada. Then the devotee should worship the lime fruit given to him/her for a week. He should sing the the song of the first week (Given below.It is believed that the Goddess herself composed these songs) during that week. After a week , the devotee should go to the temple with three lime fruits. Two lime fruit are returned which he/she should worship singing the second weeks song. After six weeks apart from coconut, banana and other pooja materials , the devotee should take along with him/her a flower garland , boiled milk and sugar candy(Kalkandu) , Pure edible camphor(Pachai karpooram) and honey.. At that time the priest would not give back any lime fruit. The milk given back should be distributed to the devotees inside the temple then itself.It is believed that whatever the devotee desires would be fulfilled.
Devotees believe that going on the same day every week but due to circumstances it may not be possible , So going one day weekly should be aimed at.
Male devotees who want to get a job or promotion should are advised to go on every Tuesdays. Girls who want to get married are advised are advised to go either on Tuesdays/Fridays /Sundays.. They are also advised to tie an yellow thread in the designated place outside the temple.Ladies wanting to have children are advised to go on Fridays .They are also advised to tie a baby cradle or a cloth with a stone inside it on the tree outside the temple
I am giving below the six week songs and their meaning. Though Ragas are prescribed, they can also be chanted in a folk style.
The six week songs to worship Kamakshi of Mangadu-Set I
By
Amman Sathyanathan
Translated by
P.R.Ramachander
First week song
Anadhai Naan, adharippai
(I am an orphan, support me)
Translated by
P.R.Ramachander
Raga Bhouli
Thala Roopaka
Pallavi
Anadai naan , adarippai, Amma,
akilanda nayakiye , AAdhi Parashakthi neeye
I am orphan, support me mother,
The goddess of all universe,
You are the primeval divine power.
Charanam
1.Kavalai theerkkum karpagamai , kanchiyile vilangukindray,
Kalamellam nalam perave kasiyile veethu iruppay,
Manidarkku vazhvalikka madhurayile amarnthiruppai-nam
Mana kurayai theerpadarke , Mankadil vadiveduthay. (Anadai Naan)
You are shining in Kanchi as the Karpagam who removes all worries,
For providing comforts always , you are there in Benares,
For giving comforts of life to humans you are sitting in Madhurai,
And for solving the wants of our mind you were born in Mangadu.
2.Aaru varam thodarnthu vanangiduven unnai Amma,
Arul mari pozhindhiduvay , agathil nirainthiduvay,
Yen kurayai nee arivay , yen thuyaram nee Unarvay,
Un padame yen idhayam , yennalum ninaikka cheyvay. (Andai Naan)
Mother I would worship you for six weeks continuously,
Please shower the rain of mercy and occupy my mind,
You know my problem, , You know my sorrow,
Please make your feet stand in my mind forever.
3.Thayumundu Thanthai undu , bandamundu, pasamundu,
Yar irundum yenna payan , thaye un arul illayel,
Cheyaka yethiduvay, sevadi vangukiren,
Thay cheyai anaippadu pol , aravanaithu kathiduvay. (Anadai naan..)
I have mother , father , relations and affection,
But if your grace is not there , what is the use of some one being there,
Consider me as your baby , I salute your feet,
And hug me like a mother does her baby,
And protect me in your tight embrace.
Conclusion
Sad guru roopini Kamakshi,
Sathya swaroopini Kamakshi,
Chandra mouleeswari Kamakshi,
Saranam saranam Kamakshi
Kamakshi who is the form of divine Guru,
Kamakshi who is the form of truth,
Kamakshi who wears the crescent of moon
Kamakshi, I surrender, I surrender
Aadhi shivan devi Kamakshi
Aadhi para Shakthi Kamakshi,
Akhilandeswari Kamakshi,
Sranam saranam Kamakshi
Kamakshi is the wife of primeval Shiva,
Kamakshi who is the primeval divine power,
Kamakshi who is the goddess of all universe,
Kamakshi, I surrender, I surrender
Second week song
Swarathodum Nayathodum pada vanden
Raga Bhairavi
Tala Aadhi
Pallavi
Swarathodum nayathodum pada varam tharuvai,
Kanchi Kama koti peetam Jagat Guru Vanangidum nee
Please give me a bon to sing the songs nicely with proper Swaras,
Oh Goddess who is worshipped by Jagad Guru of Kanchi.
Anupallavi
Mamara thoppinile mangadu pathiyinile,
Mayamay maraindhu nindru Aavin pal kudithavale
She who drank milk hiding her form,
In the mango garden of Mangadu
Charanam
1.Irandam vaaram ithu , innalgal pokkiduvay.
Elumichai maruthal pol , en manathai mathiduvay,
Thaye Kamakshi , Thangona thuyar thudaippay,
Thava kolam poondavale , Darniyellam aandavale
Oh Goddess who did penance , Oh Goddess who ruled the earth,
This is the second week , destroy all my problems,
Like the fruit of lime , change my mind,
Oh Mother Kamakshi , remove the unbearable sorrow.
2.Maantharin kurai theerkkum mangala roopiniye,
Mangadu pathi vazhum dukka nivariniye,
Mangalam undaka manam urugi vandene,
Sangarar vazhiyile saranadaithen unnai Umma.
Oh God with the auspicious form who removes the want of people,
Oh Goddess who removes sorrows and who lives in town of Mangadu,
I have come here with a melted mind so that I would get auspiciousness,
In the path of Sankara and mother I have surrendered to you.
Third week song
Nee Arulavidil vazhvethu
Raga Atana
Thala AAdhi
Pallavi
Nee arulavidil Vazhvedhu, Kamakshiye,
Vilyattal shivan udal pathi vilangum
Oh Kamakshi , just with a play, you have occupied half of the body of Shiva,
And how can there be a good life without your mercy.
Anupallavi
Unnai Vanangavidil naan vazhvedu,
Sangadangal theerkkum thayallavo –mana,
Chanchalangal pokkum marundallavo.
Without saluting you where is life,
For are you not the mother who removes sorrow,
And are you not the medicine that removes worries.
Pallavi
1.Mukkalamum unarntha mudal maniye –yen,
"moondram varam idhi varam aliye,\
Nar padai veetinile koluvirukkum,
Nayagiye uyar nava maniye.
Oh first gem who knew past , present and future,
This is my third week, give me boons,
Oh Lady who sits along with four parts of army,
Oh very valuable new gem.
Fourth week song
Ammanai pol oru deivam
Ragam Kapi
Talam Aadhi
Pallavi
Ammanai pol oru arul tharum deivam,
Akilathil undo un Shakthi pola
Is there any Goddess who showers the grace,
Like her in the universe like Goddess Shakthi.
Anupallavi
Un thalam thanai nadi vandhidum bhakthar koti,
Vandhorkku vazhvalikkum kali yuga kadavul amma.
The crores of devotees have come seeking your place,
And you are the Goddess of the Kali age ,
Who gives happy life to all those who come here.
Charanam
1.Nal naangu Vedangal pothidum nayagiye,
Nangaam vaarmidhil nalam pala cheythiduvay,
Manal thanil pithan uruvam thanai tharithu,
Mana vazhkkai kondavale , magizhvinai alippavale.
Oh Goddess who is praised by the four good Vedas,
This is the fourth week , please do lot of good things,
You who wore the form of Lord Shiva on the sand,
And entered married life, You who gives happiness.
2.Veda purani saranam saranam,
Vijaya Narayani saranam saranam
AAdhi Kamakshi saranam saranam
Amme Narayani saranam saranam
I surrender , surrender to you who is in Vedas and Puranas,
I surrender , surrender to the Narayani who wins,
I surrender, surrender to primeval Kamakshi,
I surrender, surrender to mother Narayani.
Fifth week song
Anjudhal Vedam ammaa
Raga Raga Malikai
Thala Aadhi
Pallavi (Chenjurutti)
Anjudhal vendam ayya –indha Kamakshi ,
Ammanai thudipoorkku , agadathu illai ayya,
Kenjudhal vendu mayya –namum,
Kelatha varam koduthidum deivam ayya.
Sir, there is no need to fear , for those who pray this mother Kamaksi,
For there is nothing impossible for them,
We Should beg her sir, for,
She is the goddess who gives unasked boons.
Charanam
1.Sindhu Bhairavi
Nal nenjam udayorkku nal yellam nalam alippal,
Kal nenja mudayorkku kathirundhu arul purivaal,
Uul nenjil ondru vaithu puram ondru pesuvorkkum-varam,
Arul nemjam udayavalaam Mangadu amman aval.
For people with a good heart she gives happiness through out the day,
For the hard hearted ones, she would wait to show her grace,
And even for those who have something in their heart but speak some thing else,
The mother of Mangadu has a merciful heart.
2.Punnagavaraali
Or kayil kiliyodum , maru kayil karumbodum,
Mangala kakshi tharum "sree chakram " udayavalaam,
Iyndham varam ithil iyangal pokki nirkkum-puvi,
AAlum nayagiyam aananda rukhmaniyam.
With a parrot in one hand and sugarcane in the other,
She is auspicious looking and has the "Sree Chakra" with her,
She would remove all the doubts in this fifth week and she is,
The Goddess who rules and is personification of joy.
Conclusion
Jaya jaya devi Kamakshi
Janani Saraswathi Palaya Maam,
Jaya jaya devi Kamakshi,
Mangala Chandi palaya maam
Victory, victory to Goddess Kamakshi,
Oh Mother, Oh Saraswathi, please protect me,
Victory, victory to Goddess Kamakshi,
Oh Auspecious Chandika please protect me.
Sixth week song
Kanchiyil Mana kolam
Ragam Ananda Bhairavi
Thalam Aadhi
Pallavi
Kanchiyil Mana kkolam, Mangattil thava kolam,
Kondaval Kamakshi , nee devi
You goddess Kamakshi ,
In Kanchipuram you are in the form for wedding,
In Mangadu , you are in the form for penance.
Anupallavi
Sankararum thuditha , mangadu pathiyile ,
Easwaranai vendi , Agniyil irundavale.
You were prayed by Adhi Shankara ,
You are in the town of Mangadu,
And you did penance in fire,
To get married to Lord Shiva.
Charanam
1.Nee andha velai thannil , Easwaran kan modi,
Ulaginil udithayo, yengalukku arul puriya,
Yeninda kolamendru , naan arindhen amma,
Ezhai yenai kakka, Avadarithay Amma
At that time, you closed the eyes of Lord Shiva,
And were born in this world , to show your grace to us.
I understood why you took this form mother,
For mother you took this form to protect this poor me.
2. Aaram vara mithil Palodu pazham konarnthen,
Ninaithathu nadakkumendru Koorai, ithi tharunam,
Pasamudan naane palavorkkum eendhiduven,
Nesamudan unakku nan vaitha palinaya.
In this sixth week , I have brought fruit and milk,
Please tell that my desires would be fulfilled, for this is the time.
With affection I would give it to several people,
The milk that I offered you with love.
Kanchi Kamakshi, Madurai Meenakshi ,
Kasi Visalakshi palaya maam,
Anna poorne shankari , Gangai matha,
Akhilandeswari Saranam, saranam
Protect me Kamakshi of Kanchi,
Meenakshi of Madurai and Visalakshi of Benares
I surrender, surrender Annapoorni , Shankari,
Mother Ganges and Goddess of universe.
Thiruvilakku Song (to be sung on sixth week)
Vilakkinai yethi vaithom
Raga Ananda Bhairavi
Thala aadhi
Pallavi
Kuthu vilakkinai yethi vaithom –indha,
Kuvalayathil engalai Kathiduvai,
Yethunai idar varinum yethiduvom –ini,
Yem thunai ulaginil neeyallavo.
We lit the ceremonial lamp ,
Please protect us in this world,
We would bear all problems that we get,
For you are our support in this world.
Charanam
1.Sothhu sugangalum nilaipathu undo-indha,
Manida janamamum nilaipputhundo,
Sudha puthiyudan unnai thozhudal-Vazhvil,
Metha palan varum unmayandro.
Are wealth and happiness permanent,
Does this human life last for ever,
If we salute you with a clean heart,
It is true that we would get great results.
2.Nithan nitham unai thozhudu vanthal –vazhvil,
Putham puthu suvai perugum andro,
Mandargal pothidum nayagiye –arul,
Mangadu vaaz thiru kamakshiye.
If daily we continue worshipping you ,
In this life newer and newer tastes will flow,
Oh Leader whom the people worship,
Oh Kamakshi who lives in this divine Mangadu.
Amma Saranam, Thaye Saranam,
Saranam, SaranamDeepalakshi,
Mana kkurai theerthu mangala vazhvu ,
Thandhiduval yengal Deepalalshmi
I surrender to you mother,
I surrender to you mother,
I surrender , surrender to the Alamo which is Lakshmi,
Our divine lamp would remove all my worries,
And provide me with a very good life.