சிறப்புப் பட்டிமன்றம் – இன்றைய தலைமுறையின் பெரும் சவால் பிள்ளைகளை வளர்ப்பதா..? – பெற்றோரைப் பராமரிப்பதா..?

We are delighted to announce that Aishwaryam Trsut will be hosting a special Sirappu Pattimandram event, featuring the renowned Tamil scholar and orator, Solomon Pappaiah, and his team.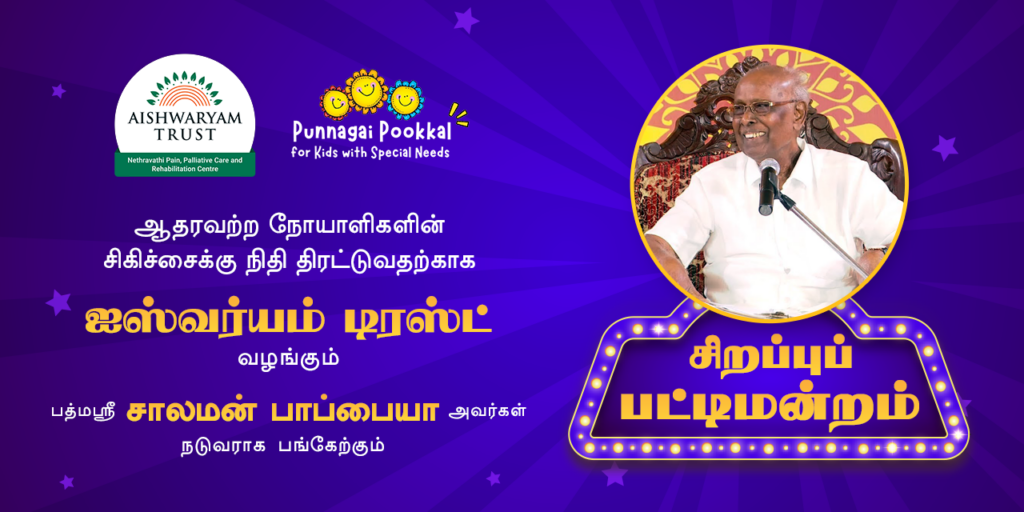 Our goal for this event is to raise funds for the treatment of ill patients and children in need of medical attention at the Aishwaryam Trust.
This event promises to be an entertaining, informative, and inspiring evening, filled with lively and engaging debate by our esteemed speakers. You will witness their intellectual prowess and quick-wittedness as they discuss a range of interesting and relevant issues.

However, this event is more than just a source of entertainment. It's an opportunity to make a positive impact on the lives of people who need it the most. By supporting the Aishwaryam Trust, we are helping to provide patients with the care and resources they need to thrive.
Join us for an evening of laughter, learning, and giving back. Your presence and support will be greatly appreciated. Together, we can make a positive difference in the lives of those who need it the most.
Thank you for your interest in our Sirappu Pattimandram event. We look forward to seeing you there!