A plan to visit temples around india and explore the various places of interest on the way. Atleast 30–40 days plan needed.
This is the route which had charted out on Google Maps covering 10 famous temples , each marked with an alphabet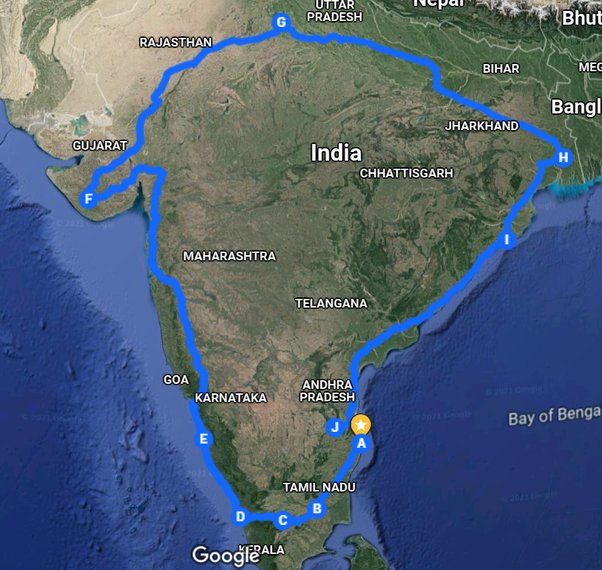 A– Kapaleeshwar Temple, Chennai– which I had visited countless times, but would start my tour from here.
B– Tiruchy Rockfort temple– which I last visited during 2020 before lockdown.
C- Palani Murugan Temple– My family deity and by far my favorite
D- Guruvayoor Temple, Kerala- I visited this when I was small and do not remember anything at all. Will definitely visit this as this falls in the route.
E- Udupi Shri Krishna Temple- Always wanted to visit this one.
F- Somnath Temple, Gujarat- Because I love Gujarat…:)
G- Mathura Shri Krishna Janma Bhoomi- Also try out Mathura pedas *smacks lips*
H- Kalighat Kolkata
I- Puri Jagannath, Orissa- A dream temple I want to go to.
J- Tirupathi, Andhra Pradesh– No particular reason I need to visit this, just that it falls in my way back to Chennai.